10 Mistakes That Can Ruin Your Dropship Business (And How Not To Make Them)
There are many mistakes beginners make when starting a dropshipping business with Shopify and AliExpress. Mistakes are a part of every entrepreneurs journey but are difficult to rectify unless the entrepreneur knows they've made a mistake.
With so much conflicting advice in the ecommerce community, we've decided to produce an evidence based list of the top 10 pitfalls that can stop an online business getting off the ground as well as exactly how to fix them.
1) Launching Your Store Too Early
We can't fault entrepreneurs for wanting validation of their dropshipping stores early on in the process. For some, a week of full effort can feel like enough to start a store, especially after validation from friends and family. In addition, many gurus encourage this idea, purporting that a successfull store can be set up in a relatively short period of time.
This can lead to stores launching with lackluster branding, poorly researched products and ineffective marketing materials. These factors translate into entrepreneurs being unable to make their first sale, which can be highly discouraging and can cause entrepreneurs to prematurely quit dropshipping.
Using a dropship spy tool like SaleSource can you build a store that will be a guaranteed success.
Also, without knowing
How To Drive Traffic To Your Shopify Store
, you'll be hard pressed to make sales.
In reality, most successful stores take 21-35 days to set up before ever disabling the password page. The distinction between doing something and doing it well is an important one to make here - while it is physically possible to set a store up in less than 48 hours, to set up a store properly will take at least ten times as long, if not longer. This is time that should be used to:
Use SaleSource to do in-depth research on products to sell
List hundreds of possible winning products on the store
Create high converting product descriptions, videos and marketing materials for each product
Brand & beautify store to increase conversion rate and customer trust
Set up pre-requisites for marketing strategy e.g. Facebook Page, Instagram Page, Google Analytics
Install and set-up conversion boosting apps such as Frequently Bought Together, SweetUpsell and more
2) Having Unrealistic Expectations
If you are Shopify Dropshipping beginner, it is unlikely that your sales graph will look anything like the one above for a long period of time. The time it takes to make the first sale and the amount of revenue you will generate varies wildly from person to person. Most dropshippers can expect to turn a profit within the first 3 months, however the correct expectations to have when dropshipping are that of building a skillset versus chasing results.
A good example of this is Ricky Hayes, who failed in his first 3 stores over the course of a year, only to then generate millions of dollars in sales in his second year. In dropshiping and almost every other skill set, real results take time to attain and are the result of learning from experience.
Your goal in dropshipping should be to learn the skills required, digital marketing, SEO, product selection and get better over time, slowly but surely increasing your revenue. However, if entrepreneurs expect to generate hundreds of thousands in revenue in their first 3 months, it is statistically highly likely that they will end up disappointed.
3) Not Using All Available Resources
A prevalent epidemic in the dropshipping world is to binge-watch YouTube videos of dubiously qualified individuals teaching dropshipping concepts, mainly due to the provocative "get rich quick" nature of the titles and thumbnails.
While these can work for basic advice, they can also mislead and set the wrong expectations for entrepreneurs. For beginner dropshippers, we recommend using software that will make their experience easier and official courses from reputable companies such as Shopify, Facebook, Oberlo and SaleSource.
There are now many tools, guides and software out there that can help entrepreneurs on their dropshipping journey. SaleSource alone can help with product research, marketing, supplier finding and much more. Facebook has a full, official, free course on how to run Facebook Ads called the Facebook Blueprint.
Shopify has free courses available on the Shopify Academy, and SaleSource has many free guides & ebooks to help you succeed in ecommerce.
4) Not Taking Care Of Your Customers
Proper customer service is an absolute must in the dropshipping business model. Regardless of your niche, if you're dropshipping, you have to invest significant time and effort into customer service. We recommend using Tido Live Chat to communicate with your customers more efficiently, and with a high volume of customer communications, software like ZenDesk can also be very helpful.
Poor customer service can lead to bad reviews, chargebacks, low Facebook page score , all of which can have a severely negative impact upon your business.
Bad Reviews
Bad reviews are something no company wants, especially a fresh dropshipping startup looking to scale. Most customers will Google Search the name of a dropshipping store along with the keyword "reviews" - the results can be telling, preventing a customer from purchasing and causing damage to your brand.
Bad reviews can be caused by lack of customer service and lack of quick responses - leading to customers believing your site is a scam. Even when customers receive their item, it is very unlikely they will remove their bad review.
Having good customer service with prompt responses and multiple channels of inquiry (phone, live chat and email) will certainly help prevent bad reviews.
Chargebacks, Returns & Refunds
Although returns and refunds are part of running almost any business, excessive chargebacks can lead to your payment processor refusing to work with your company, effectively cutting off your revenue in a short period of time.
Although chargebacks are quite extreme, they can be caused by refusing to refund adamant customers, failing to provide tracking numbers and failure to refund large, possibly fraudulent orders.
Low Faceboook Customer Feedback Score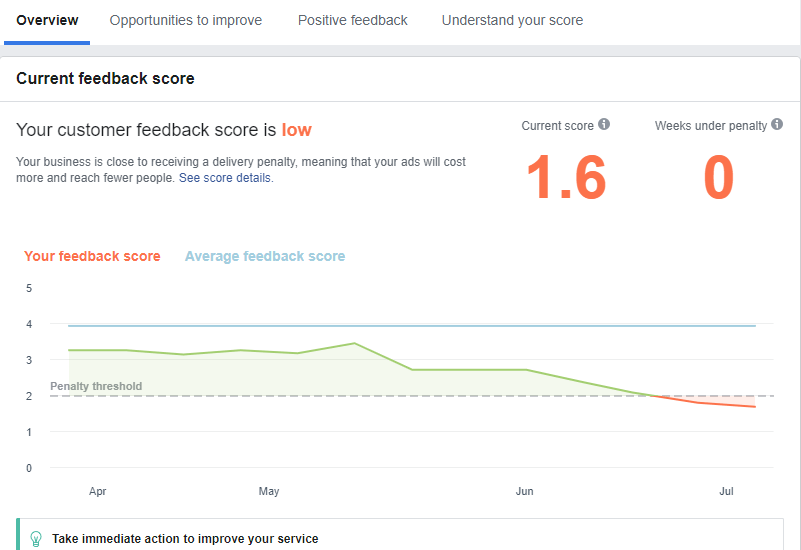 In 2019, Facebook have introduced a new metric, the Facebook Customer Feedback Score, that surveys customers of ecommerce sites at random, asking them if they made a purchase on a store. If the customer replies yes, they will be asked to rate their experience out of 5. This is due to the increase in dropshipping storefronts with poor customer service and long shipping times.
If a Facebook Page Score is less than 3, the ads running on that page will be heavily penalised. If the score is less than 1, the Facebook Page will no longer be allowed to run ads and it's possible that the associated ad account will be disabled.
To prevent a low page score, make sure to provide prompt refunds, returns and "deal sweeteners" for unsatisfied customers. Invest extra money into providing ePacket shipping for all customers and invest extra time into finding the best suppliers that will provide quality products that customers will be satisfied with.
5) Not Listing Enough Products To Find A Winner
The top 10 Shopify Dropshipping stores by revenue, listed on average 1095 products. In contrast to this, many failed dropshipping entrepreneurs only upload around 25 products and test even fewer.
Persistence is key to success at dropshipping, not only is it paramount to upload a large volume of products, but the quality of the products and corresponding marketing materials must also be high.
This leads to the need for in-depth product research and extra time spent per product to test and discover products that sell well.
6) Picking the Wrong Niche
Lack of sales due to niche is mostly caused by picking an interest group that is far too small. A good example of this would be Vegan Dragon Jewelry. In this instance, not only is a store targeting Vegans, but also people who would buy Dragon Jewelry, a niche that is perhaps too small to be effectively targeted by dropshippers.
Going up a niche, to just Dragon Jewelry, it starts to become more easily possible to target customers successfully and find products that match this description on AliExpress - however, the niche of dragon jewelry is still too small. In this instance, going up a niche, and selling alternative style bohemian or animal jewelry can work much better, allowing for a much broader range of winning products to be uploaded.
For example, popular jewelery and alternative clothing store Boho Peak have managed to sell unconventional style jewelry and earn an estimated $40,000-$80,000 per month.
7) Sourcing Products From Unreliable / Untrustworthy Suppliers
It is possible to lose large amounts of money if the wrong supplier is chosen. Some suppliers sell the exact same products for more than twice the price of other suppliers. In addition to this, some suppliers have notoriously bad customer service, can lose / forget to ship orders and even stop stocking a product despite your store still receving orders for said product.
To prevent supplier issues, it's paramount that you research suppliers thoroughly for each product you sell, not only to get the best buying price but also to ensure your supplier has great customer service, ePacket shipping and other desirable characteristics which you can find out more about in this article.
8) Not Willing To Invest Enough
Dropshipping is a real business. You have to spend money to make money and ecommerce is certainly no exception. While it typically costs around $500 over 35-45 days to make the first sale, for some entrepreneurs it can cost up to $2500. However, as long as entrepreneurs learn from their mistakes, persevere and get their first sale eventually, the investment in learning has been worth it. For more information, see our article on how to make money on Shopify
Entrepreneurs who are not willing to invest as much as it takes to get their first sale typically fail at dropshipping rather quickly. The "get money for free" mentality is a symptom of the low barrier to entry that dropshipping has and is a harmful mentality to success.
This is not to say that you should invest huge amounts of money in dropshipping, we believe that there is plenty of free information available online for you to start your business and at least get your first sale. You should invest in software that will make your life easier, such as Shopify, SaleSource, Oberlo, Loox Product reviews etc.
9) Not Focusing Enough on Marketing & Growth
While store owners jumping the gun and spending a large amount of money on Facebook Ads before their store is ready is certainly a bigger problem, the issue of over-perfectionism when creating a store is also prevalent.
Besides the fundamentals of listing a large amount of well researched products, good marketing materials and an appealing, well branded store, there is not much else required at least before launching the first ad.
We would encourage exploring more untapped marketing channels such as Pinterest and Reddit as well as the traditional Facebook Ads and YouTube Ads. In addition to this, the Instagram influencer marketing channel can be good for quick validation of a niche idea or product.
10) Not Keeping Track of Store Profits & Expenses
One of the easiest ways to lose money is simply to not keep track of all of the expenses involved in running an online business, this can serve to make you believe your business is making more money than it actually is. The Shopify revenue does not represent the amount of money you, as an entrepreneur, will be taking home. To prevent overspending, it's good to account for the following expenses:
Taxes
Currency Conversion Fees
Payment Processor Fees (PayPal, Stripe, Shopify Payments)
Shopify Fees
Software Subscription Costs
Refunds & Returns
AliExpress Product Buying Expenses
Shipping Costs
Ad Costs
One time purchases such as domains, logos, product video costs
All of these can add up to a large percentage of your overall revenue, and if some of these expenses are kept unchecked, can minimize your total profit. We would highly recommend using an app like OrderMetrics, which can pull in data from Facebook Ads, Google Ads, AliExpress to calculate your overall expenses and keep track of your profit.
Final Words
There are a lot of mistakes that can be made by beginner and expert entrepreneurs alike. We hope that this article has helped you navigate the dropshipping landscape safely and we hope that you can build the online business of your dreams with the advice you've read. If you enjoyed this article, please share it with others so they can be helped by this advice too.